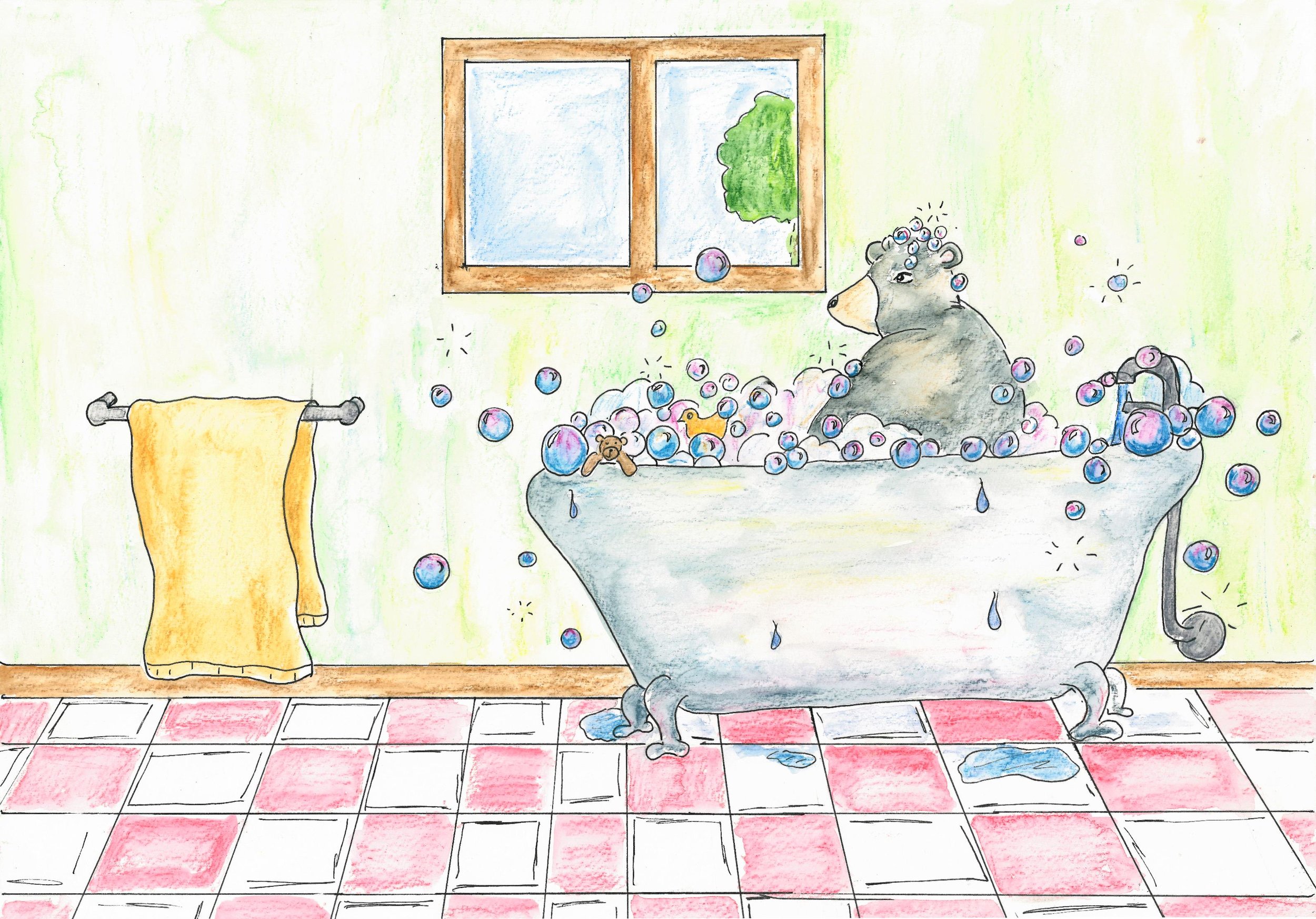 "Mom! There's a Bear in the BATHTUB!"
"Mom! There's a BEAR in the BATHTUB!" exclaims young Mia. Every day, Mia ventures out into the big, beautiful world. She explores the forest near her home until she is called home for dinner and a bath. However, when Mia goes upstairs to take her bath…there is a bear in the bathtub!
Meant to spark the light of curiosity, Bear in the Bathtub is a collaborative effort that combines the work of teachers, students, scientists, and conservationists to deliver a book that will encourage readers to use their imaginations, get outside, and discover what the wild world is all about.
Elementary and middle school students from across the United States were asked to imagine what a bear would be doing in a bathtub. Their artwork combines with that of Alli DePuy to bring the lively text from Kathleen Dent to life. A non-fiction section based on the research of Dr. Michael Sawaya, a carnivore ecologist with Sinopah Wildlife Research Associates, explains the science behind bathing bears everywhere and why it is important to understand their behavior in our changing climate.
About the Authors, Illustrator and Scientist!
ABOUT THE AUTHOR Kathleen Dent was born at a family owned ski area in southeastern Idaho. She grew up tromping through the woods, following critters, and just generally being curious. She has always lived in the Intermountain West, including the Snake River Valley of Idaho, the high desert of Utah and now in Missoula, Montana. She loves to learn about this beautiful part of the world and encourage the little people in her life to be curious and explore. Kathleen is a world traveler. She especially enjoys visiting her kids and granddaughter! She and husband Larry cherish their time with family and friends and time in the beautiful Montana landscape.
ABOUT THE ILLUSTRATOR Alli DePuy spent many days during her childhood skittering and scattering, baking mud pies, and building forts in the forests. When she was not outside, Alli could be found painting images of her experiences in nature. Raised in the Inland Northwest, Alli grew up with a love of the outdoors and art. Moving to Missoula to attend the University of Montana and receiving a degree in art and education was the perfect fit. Today, Alli still lives in Missoula with her husband, children, and two dogs. On most afternoons you can find her hiking in the hills, skiing in the mountains, or cooling off on a hot summer's day in the neighborhood swimming hole. Her sketchbook and paints are always close at hand.
ABOUT THE SCIENTIST Dr. Michael Sawaya has been studying wildlife in the Rocky Mountains since 1995 and is currently a carnivore ecologist with Sinopah Wildlife Research Associates in Missoula, Montana. Through his research, Mike seeks to understand how carnivores respond to environmental changes and to apply that information for more effective conservation. Mike enjoys exploring nature, art, and science with his wife and two sons.
About Farcountry Press Celebrating more than 39 years in business, award-winning publisher Farcountry Press specializes in softcover and hardcover color photography books showcasing the nation's cities, states, national parks, and wildlife. We also publish several popular children's series, guidebooks, cookbooks, and regional history titles nationwide. Farcountry also distributes books for several publishers, including Montana Historical Society Press, Quick Reference Publishing, and Sweetgrass Books, Farcountry's custom-publishing division. Farcountry produces more than 50 books annually; the backlist has grown to more than 300 titles.
Visit www.farcountrypress.com or call 1.800.821.3874.